Featured Vacation Rental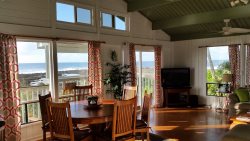 The Best view on the water. Lawns, gated, great water access
Local Area Guide: Things to do / Activities / Attractions
KEY NEARBY AMENITIES AND ATTRACTIONS:
Starbucks, think coffee! Just a short walk (about a block) up the road.
Supermarket - Foodland (also a block away) is a full service supermarket with deli, bakery, flower mart, DVD rental, ATM machine and Starbucks Coffee kiosk.


Turtle Bay Resort, is a 10 minute drive east and features hotel, restaurants, boutiques, beaches, pools, 2 golf courses, horseback riding and other resort amenities.


Historic Haleiwa Town is a 10 minute drive west where you can enjoy restaurants, shop for souvenirs and try a cool local treat - shaved ice!


Waimea Bay and Sunset Beach, are world famous surfing beaches located just a half mile in either direction.


Sharks Cove, in the wintertime has some of the largest waves in the world, but in summer time it is calm and boasts some of the best snorkeling on the island. You will find reefs with caves, lava tubes and fantastic coral outcroppings. This is a great place in summertime for kids to play, explore tide pools and swim in the shallow area.


Honolulu is just a 45 minute drive where the many restaurants and nightlife venues offer something for everyone.


Honolulu International Airport is a 35 minute drive.
Gliding -
AcroFlight International starting
at $89 a flight 808 221 4140
Whether you are a first time tourist or a seasoned pilot, no trip to Oahu would be complete without a birds-eye view from the air! Be amazed by the sight of hidden waterfalls, ancient Hawaiian fishponds & many more treasures of Hawaii.


Waimea Bay Beach Park
Heart of board surfers' paradise - the largest surfable waves in the world (30 feet not uncommon during winter months).
Sunset Beach
Famous board surfing beach - site of professional surfing
contests. Spectacular winter surf reaches heights of 20 feet.
Banzai Pipeline: Ehukai Beach Park
The Banzai Pipeline is a beautiful tubed surfing break. When it's "cranking," the surf is some of the most spectacular in the world. These powerful waves break savagely on the reef displaying their massive power. Ehukai Beach Park has some of the best sandbar surf on O`ahu during the Spring and Summer.
Waimea Valley Adventure Park
A historic nature park on 1,800 acres. Over 6,000 species of plant life, 45 foot waterfall, bird sanctuary, hiking trails, swimming, archaeological ruins.
Includes: Cliff diving performances, hula shows, Hawaiian games, guided walking tours, Butterfly encounter, Mountain biking, ATVs, horseback riding, kayaking, archery, Jungle Trek for kids, Waimea Arboretum and Botanical Garden, Shops and restaurants.
Hale'iwa Town (Historic)
A plantation town that has come of age - old general stores co-exist with modern boutiques, art galleries and eateries. Former summer playground of Queen Liliuokalani, Hawaii's last reigning monarch. Largest marina on the north shore.
Dole Pineapple Plantation
The Dole Plantation, Hawaii's "Pineapple Experience," is located about 10 minutes away from historic Haleiwa town.
Hanauma Bay Nature Park
Crystal clear water, abundant marine life and a living coral reef mean Hanauma Bay is one of the premiere snorkeling destinations in the islands any time of year. A gently sloping beach fronts directly on the horseshoe shaped bay, formed in the remains of Koko Head Crater, an ancient cinder-cone volcano, now breached and filled with sea water. Within this half-mile-wide bay are one of the prettiest reefs and the most abundant fish life in Hawaii.
Pearl Harbor: USS Arizona Memorial, Battleship Missouri
The Bus: Oahu's Transit Services
Deep Ecology-North Shore
Family operation offering 6 passenger boat dive tours, and whale watching & snorkel trips (seasonal) from a zodiac boat. Unique shop in historic Haleiwa town with both an outdoor eco-gallery, eco-driven world class photo gallery and maritime artifacts. Offering rentals, classes and fills along with tech training. Small diving groups, six or less, always.
Aquatic Surfari's
Marine biologist team crew one of the few private sailboat charters in Hawaii. Unique adventures range from cryptic coral spawning or out-of-this-world meteor showers to intimate whale/dolphin encounters on a sensitive, conservation-minded journey. Their six passenger maximum makes this a don't miss event!
North Shore Eco-Surf Tours
Surfing sessions and lessons along Oahu's North Shore - the most famous stretch of surfing beach on earth. Windsurfing, mountain biking, and hiking packages available.
Sunset Suzy's Surf School
Specializing in beginners who want to learn the sport of ancient Hawaiian kings! Suzy is a lifeguard, professional surfer, and stunt woman for the television series Baywatch Hawaii, and has taught tourists from Ireland to New York.
Hale Nalu Surf Company
Quality products and services at fair prices. Sales, rental and repair of surfboards, bicycles, skateboards, snorkeling and diving gear, clothing and swim wear.
North Shore Country Market
Less than one block away, the Country Market has a selection of fresh fruit, soaps, candles and local crafts.
North Shore Fishing
Unbelievable sport fishing experience right in Haleiwa visit chupu.com for details.

Paradise Cove Luau
Paradise Cove is one of the largest and most respected luau shows in Hawai'i. Located at the beautiful Ko Olina Resort on the leeward coast of O'ahu, Paradise Cove features brilliant sunset views from our 12-oceanfront acres.
Polynesian Cultural Center
The Polynesian Cultural Center is a unique treasure created to share with the world the cultures, diversity and spirit of the nations of Polynesia.